Ready Mix Concrete
Dauphinais Concrete offers complete residential and commercial ready-mix concrete for poured foundations, walls, driveways and sidewalks, flowable fill, and more. We delivery Monday – Saturday. Contact us today for a free estimate!
Concrete Blocks
Smooth finish concrete blocks are in full size (21"H x 32"W x 64"L) and half block (21"H x 32"W x 32"L). All blocks are constructed of leftover concrete unless otherwise noted.
Colored Concrete
We are able to match color to any of the following color brands: Alabama Pigments, BASF Rheocolor, Bomanite, Butterfield, Cohills, Davis, Dynamic Color Solutions, Elementis, Increte, Interstar, Prism, QC Color Tech, Rainbow, Scofield, Solomon, Southern Color, Stampcrete.
Color prices can range dramatically and are based off of the amount needed to achieve a specific pigment or contrast. Call the office to inquire as to a specific color and cost. Remember, color will look different on the computer vs. real life. We have color charts available in our office, as well as some actual sample pieces.
Aggregates
Small quantities of sand and gravel are available for pick up at our Bellingham Location. Large quantities of recycled crushed concrete are available for pick up or delivery. Suitable for driveways, parking lots, access roads, under concrete pads, and leveling.
Service Area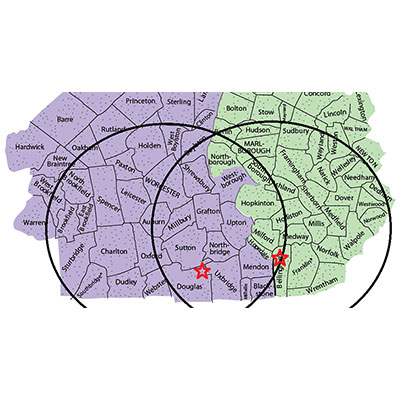 Delivery is available within the encircled towns, as well as those touching the perimeter. If you desire a delivery outside of the selected areas, feel free to contact our office for special accommodations, or a trusted recommendation for a company in your area.